Job Sequencing

Job Sequencing is the arrangement of the tasks required to be carried out sequentially. Hence the two techniques called Priority Rules and Johnson's Rule are adopted here.
Figure7 Two Techniques of Job Sequencing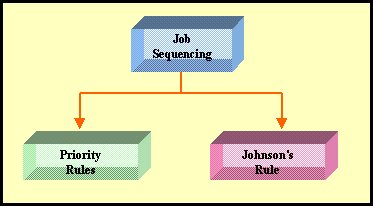 Priority Rules
Provides guidelines for the sequence in which job should be done.


Johnson's Rules
A technique that can be used for minimise the throughput( completion ) time for a
group of jobs that are to be processed on two machines or facilities.