Work Centres Loading

Work Centres Loading is the assignment of the jobs to work or processing centres.
Operations manager assigns job to work centres so that cost, idle time, or completion are kept
to a minimum. It could be divided into two forms, the first is oriented to capacity, and the second
is related to assign specific job to work centres. Hence, Input-Output Control and Gantt Chart
are the two techniques adopted to perform the forms concerned.
Figure3 Two Techniques of Work Centres Loading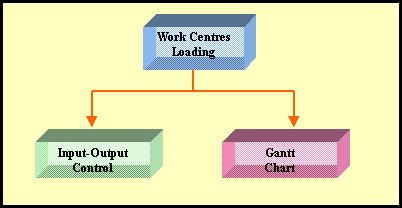 Input-output Control
A teachnique for examining loading from the perspective of the capacity.